My gorgeous friend,
Sally
, posted a 21 day challenge on
her blog
. Basically, the premise is that you can form any habit if you do it for 21 days straight. I'm right on board with that, because I need to get some structure back in my life! I'm going to work on TWO habits in 21 days:
~ Blog daily
~ Track my calories daily
I'm really glad that she started this challenge. I really need the motivation to get off my rump!
*******************************
Went to Kennywood yesterday! We had SO much flippin' fun! The weather was beyond gorgeous. A little hot, but not humid at all and there was a nice breeze. Also, it wasn't crowded at all! It was so nice to just jump on the rides without waiting in line forever. The kids absolutely loved it too! Their favorite ride was the Whip...HUGE smiles and big belly laughs the whole time. They just wanted to keep getting in line and riding again! :) Childhood excitement and innocence is so contagious. They really make me see things in a new light, KWIM?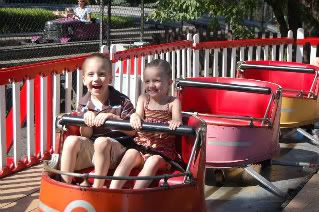 With my sister, Dana, and my hubby, Jarrett:
Ava would ride absolutely EVERY single ride we saw! It was hysterical! That kid isn't afraid of anything!!! She just LOVED the Kangaroo. This was her favorite along with the merry-go-round.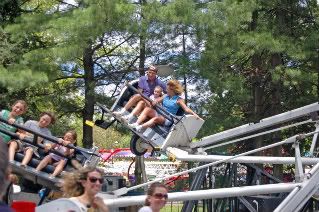 Christian is a little more of a chicken. He's leary about everything and won't ride it if he's a little scared. No Kangaroo for him!!! LOL His absolute favorite was the turnpike and the auto cross ride. He would ride those cars all day if you left him!
He was tall enough for a real roller coaster this year. He loved the one in Kiddieland, so we decided to take him on the Racer. He rode in the seat with my dad. Ummmm....didn't like it so much! lol
BEFORE
- Went on smiling.
DURING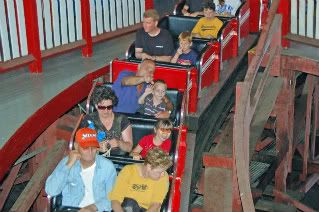 AFTER
- Came off crying. :(
He got over it real quick though and actually said that it was a "little scary", but still "fun". Said there was NO WAY he was riding it again though! LOL
Random cute pics...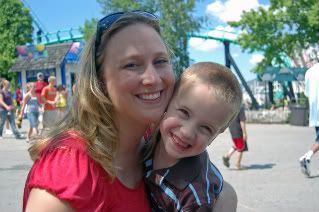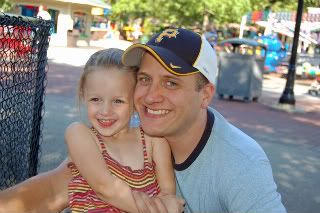 *****************************
New LO posted and new template in
my store
! Just in time for 4th of July pics,
Independence Hill
, is ready for sale!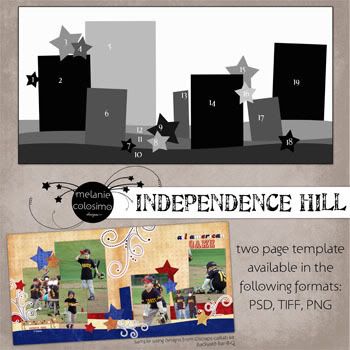 And here's a LO of my little Christian playing Tball! Uses my
new template
and
Backyard Bar-B-Q collab kit from Oscraps
.
*****************************************
Easy day planned for today. Just need to get everything cleaned up and put away from our Kennywood trip yesterday, getting together another template that I have almost ready to go in the store, and a LOT of rest and lying around! My knees are killing me and I need to chil out on the couch a bit! We got a new movie from Blockbuster Online in the mail yesterday. (Veggie Tales Wonderful Wizard of Ha's) Planning on some couch time with the kiddos to watch it! :)
Have a great day!!! {HUGS}