Okay, girls...it's gotta be a quick one today! Christian's bday party is tomorrow and I am SO behind!!! Here are the last 2 days in a nutshell. Wednesday I did laundry, made cake balls for Christian to take to school for a snack on Thursday, and had a church meeting for the 150th anniversary. Thursday, Christian had school and I got to stay! :) YAY!!! They walked down to the library and had a little story time. They looked so darn cute walking in their line down the sidewalk. Christian was just thrilled that I got to stay and my goodness...the kids in his class are TOO cute for words!! It's so fun to see what he does when he's there, KWIM?
Today, I need to clean and go shopping for food for the big party tomorrow. I make cakes for each of the kids bday parties, so I need to get off my butt and figure out what I'm gonna do for that too! OY!! I need to get moving!!! LOL....
The weather is supposed to be GORGEOUS all weekend! 70 degrees and sunny! And can I just say...thank goodness!!! Our house is too small to hold a big party like this inside, so every year, we just cross our fingers and hope that it is warm enough to be outside. Nice way to plan, huh?!?! ;) It's worked for us every year so far though.
AND....since the weather IS so nice...I'm in a giving mood! ;) SO....that's a perk for you!
All designs by me
at Elemental Scraps are going to remain
50% off through Monday
!!! That's right...3 extra days of shopping!! Could you ask for more?!?!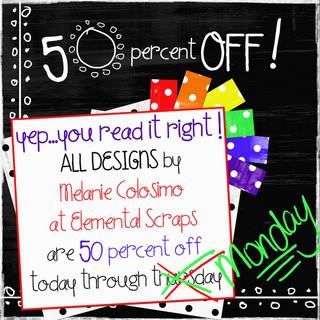 Well, okay...if you really need more of an excuse to shop....take another $2.00 off your purchase of $5.00 or more using the code
niceweather
Now, go shop!! ;) And don't forget to enjoy your weekend! I'll have some pics from the party when I post on Monday! {{{{HUGS}}}}