Can you believe it? My gorgeous little Christian turned 4 today. Wow... I still can't believe the time has flown by so fast. Anyways, here's a little blast from the past to honor my little buddy...
April 14, 2003/April 15, 2003:
A normal day. Jarrett came home from work and we were eating dinner and watching TV in the living room. As soon as dinner was over, I had cramps in my stomach. I thought that maybe something I ate didn't agree with me. I was in the bathroom and I remember thinking that it definitely wasn't just an upset stomach...something was different. I had Jarrett grab my trusty "What to Expect When You're Expecting" book and started to read up on contractions. (I didn't know what to expect and didn't know if these were them or not.) WELL...let's just say....it didn't take long to realize that those excrutiating pains HAD to be contractions! We started timing them and they were very close together from the get-go. We called the doctor and she told us to make our way to the hospital.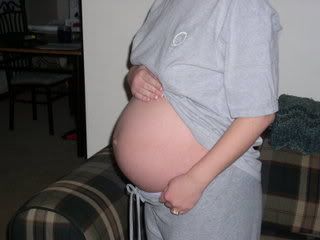 I don't remember much about the drive there. Only that I was in SO much pain that I didn't even want to hear Jarrett's voice on the cell phone. (He was calling our family and friends to tell them we were on our way.) By the time I got admitted, I was SO ready for drugs! (And yes...I normally handle pain pretty well!) The guy who came to give me my epidural was wonderful. He totally did not look like he should be working in a hospital. He looked like he could have played football for the Steelers!!! LOL His image will be in my head forever because it threw me off guard so much. They made Jarrett leave the room while he did it and let me tell ya...it was a miracle!! My football player gave me the epidural (with NO pain at all) and before he left I told him that I would marry him if I wasn't married already. YES...it worked THAT quick!! ;) Jarrett came back and compared me to Dr. Jekyll and Mr. Hyde. LOL Huge difference!!!
I will always remember that the movie The Mummy was on TV the whole night. The hospital only got a certain number of channels and there was nothing on any of them! The channel we were watching was playing the Mummy back to back, so we saw it a million times that night!
We just sat and waited it out to see what would happen. They brought our doctor in when it was time and I didn't have to push for very long before we learned what we had....a BABY BOY!!! YAY!!! :) We didn't want to know ahead of time, so it was a HUGE surprise! The doctor pulled him all the way out and as she lifted him up to my chest, he started to pee on me!! Only 1/2 a second old!!! I was laughing my head off and she said "Ummmm...I'd close my mouth if I were you!". EW!! ;)
I will never forget that moment. 2:06 am. The moment where my life would change forever. The moment where I would realize that nothing else in life mattered anymore. The moment where I saw the most beautiful little testament to the love that Jarrett & I share. Wow. I'm tearing up now just thinking back to it. My little guy has made me happier than I could have ever imagined. And just when I think that it's impossible to love him any more than I already do, he proves me wrong. I thank God every day for him and for the way he has changed me and my life.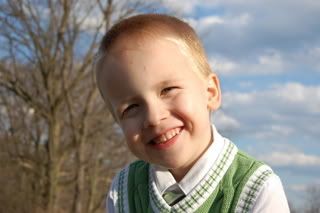 Have a great night, girls! I'm off to kiss my little ones goodnight and get in bed! {HUGS}
****Here's a coupon for those of you who shared this special day with me...$1.00 off your order at my store at Elemental Scraps (valid until April 20th using the code bloglover). AND...my store is 50% today through the 19th. (Discount will show in your cart) AND the WHOLE Elemental Scraps store is 50% off April 17-19th! Thanks for stopping by! :)